Elementary School
Graduation Regalia
| | |
| --- | --- |
| | Cap and Gown Depot ... Finest Academic Graduation Regalia, and Personalized Customer Service |
Caps and Gowns for Elementary School graduations.
Colors available:
White, gold, royal blue, light blue, gray, purple, black, navy and maroon/burgundy
Similar to high school graduation regalia shown below, but "smaller sized" and less costly, designed for elementary and middle school (junior high school) graduations.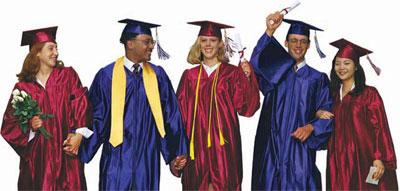 1 - 7 sets $32.00 each
8 - 12 sets $28.00 each
13 - 24 sets $26.00 each
25 - 49 sets $23.00 each
50 or more sets $16.75 each
Graduation Accessories
Pricing for Cap and Gown Accessories:
Additional caps with Tassels (no gowns) $15.75
Additional Tassels (no gowns or caps) $4.75

Gold Honor Stoles with "Honor" imprint $15.75
Gold Honor Stoles without imprint $12.75 Gold Honor Cords $8.75

Cap and Gown ordering:
To order, simply contact us with the following information (whichever parts are applicable):
PART ONE
Name of person orderingName of preschool if applicable
Street address
City
State
Zip Code
Ship-to address if different from above
Home tel #Work (or Cell) tel#

PART 2
For Cap & Gown:
Quantity of Gowns needed, per size. See height chart below.
Color of Cap and Gown
Color of Tassel
2006 Year date on tassel?

PART 3
Payment Info

PART 4
Shipping/Handling
* If quantity of sets ordered <12, please add $5.00 surcharge
Date Needed (so we know whether to ship via UPS Ground, or by Air (i.e. FedEx)
UPS Ground S/H This is usually the least expensive way of shipping:
If subtotal is <$250.00, then $12.50 S/H.
If subtotal is > $250.00, then 6% subtotal for shipping/handling/insurance.
For rush shipping, please add $15.00
For extremely urgent RUSH shipping via Fed-X AIR (i.e. last minute) please add
$30.00 next day air
$20.00 two day air
PART 5
SPECIAL REQUESTS, confirmations, etc. Anything different or special about this order we need to know about, be sure to put down. Also, please give us contact information (e-mail preferred, but also day and evening phone) in case we have any questions.
**HEIGHT INFO FOR LARGE OR BULK ORDERS:
We would need to know the QUANTITY, PER GOWN SIZE that you require.
Please do not give us everyone's name on a sheet of paper with their measurements. Instead figure out from chart below how many students you have in each of these sizes and give us the TOTALS.
Remember that the gown sizes shown are based on the heights of the person standing with shoes, not the size of the gown, so if a girl wears flats, then she should give you her height in flats, but if she plans on wearing high heals, then she should give you her height in heels. If you have someone who is "on the border" of two sizes, then if it is a skinny person, use the smaller size; if it is a large person, use the taller size.
The chart below is for normal weight (normal proportioned) individuals. If any person or persons in your group is FULL FIT, please make a separate list under the list below with the height and weight of those individuals, so we can determine the correct size gown for them.
(If needed we can also provide this for you in metric sizes)
HEIGHT WITH SHOES ORDER GOWN SIZE #
From: To:
FEET*INCHES FEET*INCHES
4*6 - 4*8
4*9 - 4*11
5*0 - 5*2
5*3 - 5*5
5*6 - 5*8
5*9 - 5*11
6*0 - 6*2 57
6*3 - 6*5 60
IF YOU ORDER BULK BASED ON ABOVE CHART (LETTING US KNOW HOW MANY YOU NEED IN EACH SIZE), THEN PRICE AS ABOVE
Or if you prefer, you can "personalize" your order, by you letting us know the name of each person wearing the Cap and Gown, with their height and weight, and we will put their name on the bag with their Cap & Gown. The cost for personalization is 50 cents per person. If so, please indicate as such above in special requests.